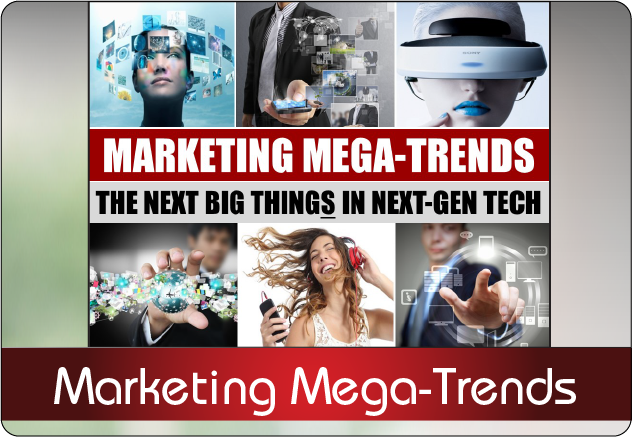 THE MARKETING MEGA-TRENDS: NEW!
The Next BIG Thing(s) In Next-Gen Tech
Experience is the new engagement. Context is the new content. Bots are the new killer apps… and the physical world is the new digital channel.
While Augmented Reality (AR) is creating a new layer of digital media out of thin air, Virtual Reality (VR) is converting stale-and-tired 2D ads into immersive 3D simulations that let customers fully experience, and feel.
Whereas Mobile turns every moment, proximity, and place into a series of high-value, highly relevant touch points, The Internet of Things (IoT) transforms our once-lifeless products into lively new marketing outlets that (literally!) sell themselves.
And The Next-Gen Web breaks out of the box —and outside the screen—into an exciting new ecosystem of devices, displays, interfaces, and platforms.
Predictive tech transitions us from serving customers in real time to anticipating their needs ahead of time. Artificial Intelligence (AI) moves us from apps that enable us to do more with our devices… to algorithms that empower our devices to do more for us.
Moreover, Big Data catapults us from marketing's dark ages to an enlightened era of precision, personalization and innovation.
Welcome to the next BIG thing(s) where the biggest thing of all is that professionals who have always worked amid scores of limitations will, all too shortly, only be limited to one: their imaginations.
Download the PDF Overview Here.

Always on-trend, ahead of the curve, and in pursuit of the next BIG thing, Christina
"CK"
Kerley illuminates what's new–and what's next–in her keynotes, trainings and professional development programs.
Equal parts innovationist and futurist, CK's cutting-edge tech topics and high-energy delivery are an electrifying combination that captivates, educates and inspires Fortune 500 audiences. Don't just get up-to-speed on change, get CK—and get ahead of it.