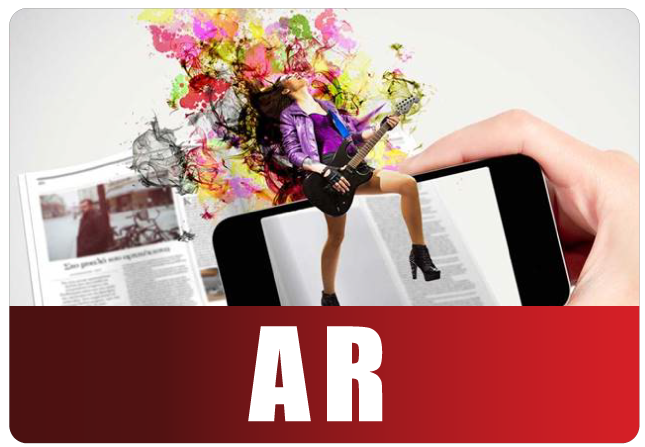 Augmented Reality ("AR") is changing the way we view, interact with, and learn about the world all around us.
Through apps on our smartphones and smart glasses, AR enables us to add a layer of digital information, images, and incentives atop the real world.
Whether to learn more about the stars above or the subway below, the uses for this emerging media are limitless.

Augmented Reality is a technology that does exactly what the name implies: it augments the real world—in which we live, learn, work, shop, socialize and play—with a digital layer of information that can be viewed through mobile and wearable devices. The result? Deeper experiences, increased knowledge, and improved activities.
Scan a city block to learn of coupons at restaurants, or to locate the nearest subway station. Roam the ancient ruins of empires' past… while simultaneously glimpsing a digital display of them in all their glory. Explore famous museums and, when a certain painting piques your interest, scan it to learn of the painter's other famous works.
Virtually try on various shades of eyeliner to find the perfect color. Before buying a new set of appliances, digitally superimpose them into your kitchen to decide which will look—and fit—the best. Whether as a tool for functional applications or fun uses, the opportunities of augmented reality are as limitless as our imaginations.
Always on-trend, ahead of the curve, and in pursuit of the next BIG thing, Christina "CK" Kerley illuminates what's new–and what's next–in her keynotes, trainings and professional development programs.
Equal parts innovationist and futurist, CK's cutting-edge tech topics and high-energy delivery are an electrifying combination that captivates, educates and inspires Fortune 500 audiences. Don't just get up-to-speed on change, get CK—and get ahead of it.